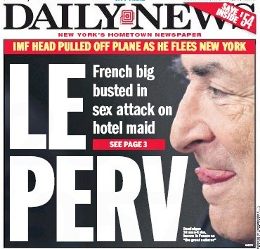 According to French politician Jack Lang, and some journalists, the fact judge Melissa Jackson refused to grant bail to Dominique Strauss Kahn is proof anti-French sentiment was part of her decision. From a purely legal standpoint, her decision is understandable: the accused is a flight risk, he was taken off a plane.
What's really interesting to us, at Miquelon.org, is that after 8 years of no support from the French political establishment, French Bashing is now a convenient card to play when it suits someone's political agenda.
So far, we have seen little or no French Bashing save a few lousy headlines in faux-French over the DSK Affaire. Most attacks have been aimed squarely on DSK's personality, his status and his lifestyle. Just like in France.
If anti-French sentiment is expressed in this case, we'll be the first to denounce it. In the meanwhile, Jack Lang might want to keep his opinions on the matter of French Bashing to himself.