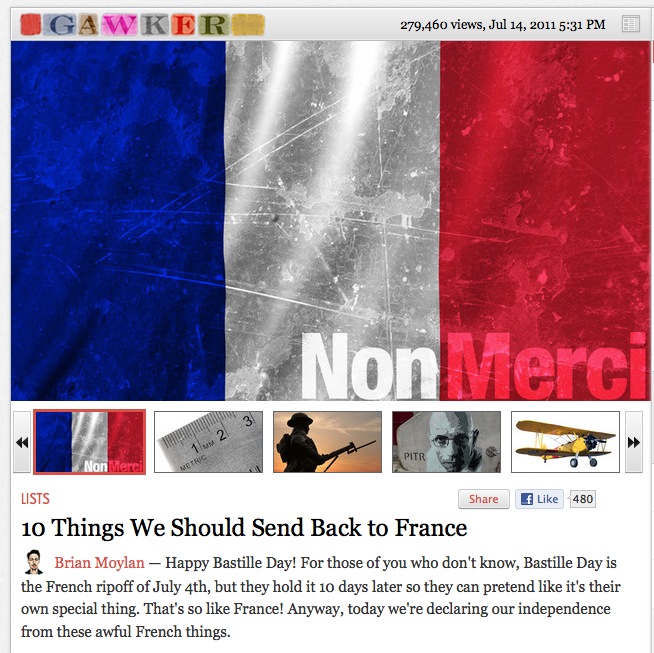 Whether it's Women's Soccer, DSK, Tennis, Bastille Day or a sponsored hash-tag – the web remains rife with anti-French prejudice and sentiment.
Brian Moylan of Gawker.com thinks he can do better than Cracked.com with his weak list of "10 things we should send back to France". We're guessing Ryan Tate(1) was too busy.
Still over at twitter, a sponsored hash-tag (#wheninfrance) unleashed a flood of French Bashing

Women's Soccer provided plenty of fodder for the press and twitter

In other news: Les Bêtes Fromages by Llewellyn Hinkes – "After all, this is the selfsame empire that slaughtered its way through most of Europe under Napoleon and used its trans-national power to colonize Haiti, Laos, Cambodia, Vietnam, Thailand, Chad, Algiers, Tahiti, Polynesia, Togo, Madagascar, Mauritania, Benin, Niger, Côte d'Ivoire, Senegal, Mali, Congo, Central African Republic, Burkina Faso, French Guiana, Morocco, Quebec, Eastern Canada, the American Midwest, and Louisiana."
Meanwhile, part the French Consular Network (Miami – San Francisco – Nouvelle Orléans) is promoting the work of a group called "The French Will Never Forget".
(1) Ryan Tate @ Gawker : "But [Angelina Jolie's] lazy, arrogant French doctors will make her wait in agony for three more days so they can celebrate cutting off rich people's heads like communists and probably also so they can fornicate with their unbathed mistresses, get drunk and fantasize about terrorism."
(2) Luke Russert is a television and radio personality who has followed in the footsteps of his father, the late Tim Russert)