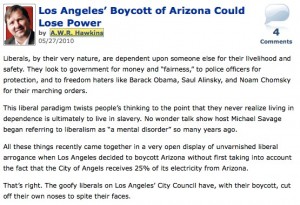 Lewis Black nailed it two weeks ago when he exclaimed emphatically that "Glenn Beck has Nazi Tourettes!". Beck however, is not the only one who suffers such political maladies. Many of America's right wing columnists also suffer from what I call OFSAS.
Obsessive French Surrender Analogy Syndrome (OFSAS) is what happens when your knowledge of world history stems from a select anti-French Jay Leno monologues, anti-French jokes from the Simpsons combined with the analytical refinement of a cement brick.
Case in point, the words of A.W.R. Hawkins in his column about Los Angeles' Boycott of Arizona. Somehow, Arizona, Illegal immigration, Los Angeles' City Hall led to the following passage:
"Or like those vile Frenchmen, who long ago forgot that while they were dropping their rifles and raising their hands in surrender during World War II, our Midwestern farm boys were climbing off their tractors in order to climb into tanks and stave off ultimate defeat for the messieurs." – A.W.R. Hawkins, May 27th 2010
With those words, Hawkins achieved a level of political discourse on equal footing with the words of Groundskeeper Willie. Not only are the French vile, they are of course – collective utter cowards.
Hawkins willfully ignores the fact the French lost 100,000 men keeping the German army at bay and saved the British Expeditionary Force at Dunkirk and Lille before their leadership yielded to Germany.
Hawkins also completely sidesteps America's pro-Vichy stance until 1942, America's widespread isolationism and many pro-Nazi sympathizers from Henry Ford to Joe Kennedy via Father Charles Edward Coughlin, the America First Committee, George Lincoln Rockwell and the German-American Bund to name a few.
Hawkins should be reminded that it was a Democratic President who came to the aid of Europe during its darkest hour despite the isolationism most prominent in the ranks of the Senate Republicans. But we'll let more capable historians like Robert Young or columnists like Eric Margolis rebuke such simplistic histrionics.