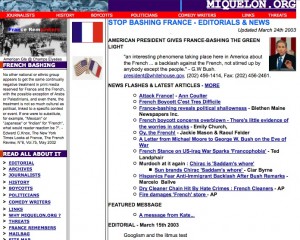 Simply WOW! 2013 will be the 10th year of Miquelon.org and our bid to educate the entertainment industry, the media, politicians and the public about the ill informed roots of French Bashing and Anti-French sentiment.
We – the community – have had some victories and some success, but there is still so much more to be done. We must always remain vigilant and keep all accountable for their choices when it comes to Free Speech.
Nobody here at Miquelon.org believes in curbing Free Speech, but we reserve the right to document, question, poke and prod those who believe the French deserve to be the oh so easy targets of jokes, jabs and flippant comments.
Happy New Year to all, and let's fight to good fight. Aux armes citoyens !