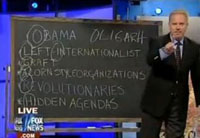 Miquelon.org has been quiet lately and that's been a good thing. French Bashing is now limited to the hinterland of bad tweets and soccer forums, a level of background noise that we keep monitoring but which pales in comparison with the hate fest under the Bush-Cheney presidency. (On a side note, Karl Rove denied any involvement in that sad episode of American politics in a recent tweet, but we'll discuss that in another post. )
As we near the end of 2009, French Bashing is no longer common on television. In fact, in a recent episode of Family Guy, French stereotypes were thrown onto the heap of politically incorrect materials in a skit entitled "Bigoted Songs Melody". Even the eternally unfunny Simpsons are toning things down with a recent caricature of Nicolas Sarkozy and Carla Bruni that lacked imagination and punch – true to their style. Jay Leno for his part is probably too busy trying to counter his downward ratings spiral to care about bashing the French at this time.
So is there anyone left in the US media willing to publicly Hate the French?
Why it's Glenn Lee Beck. Mister "I hate France" who still thinks the French are just another of his nightly punching bags. During his show, Tuesday, December 15, 2009, Beck took another spineless jab at the French:
"Ben Franklin was considered perhaps the most important man of his day. He was obviously revered in the Colonies, but he was also so respected around the world, that there was hardly a house in France that didn't have his portrait in it. France had yet to become the "surrender monkeys" and non-deodorant America-haters we now know they are." Source: FoxNews.com

Beck's hate speech not only refers to the 1940 surrender, the most traumatic event in recent French history – as funny to the French as 9/11 or Vietnam to Americans – but he does not hesitate to use racialist language that is often used to describe other nationalities and minorities from the Irish to African-Americans.
Like Jonah Goldberg before him, Beck believes he can use the Simpson's most offensive anti-French slur as he pleases, even if he portrays us collectively and perpetually as sub-humans. Pulling out all the stops, Beck also revisits common anti-French stereotypes about cleanliness and anti-Americanism.
We would like to take this opportunity to thank Glenn Beck for uttering those words so he can remind us all where French-Bashing really comes from – the ultraconservative right wing of the political spectrum steeped in hate, paranoia and teabags.